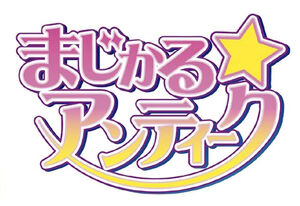 Magical☆Antique (まじかる☆アンティーク, Majikaru Antiiku?) is a Japanese visual novel released on April 28, 2000 by Leaf.
The main current of Magical☆Antique is running an antique shop with Sphie, who is a magician and one of the main heroines of this game. The Main system is separated between SLG part and AVG part. There were unexpected background settings including the antique shops, bringing popularity to the game in Japan due to its well-organized system and scenario, the popularity of some characters and relatively inexpensive price.
Like Comic Party, Magical☆Antique succeeded to the Leaf's line to SLG system, but there were lack of connections between the SLG part (running antique shop) and each character's scenario. Thus the game system fails to be appreciated as a game.
Reception
Edit
At this time, Leaf Osaka HQ attempted to emerge from the visual novel line, but there were many oppositions by former Leaf fans. In addition to Tasogare's breakdown and piracy scandal disturbances about Kizuato, the controversies among the fans were intensified every day. Eventually, Osaka HQ was thought to be on the decline, and Magical☆Antique was also regarded as one of the cause. But on the contrary, sales and evaluation to this game were both beyond expectations.
External Links
Edit